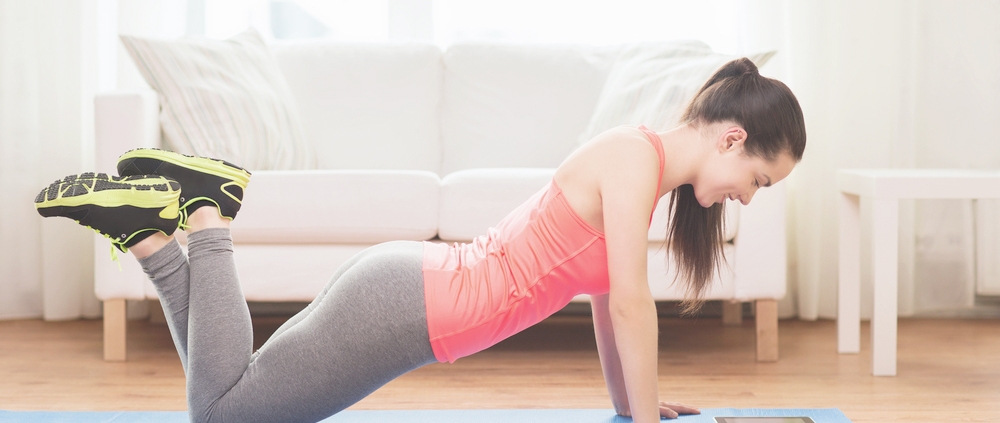 Who said you had to go to the gym to keep in shape? Do your workout at home; you just need space, perseverance and a bit of advice…
As winter settles in, the desire to leave the house and go out to do exercise fades. Rain becomes the perfect excuse to skip your workout and start piling on the calories. But we can't let the bad weather stop us from adhering to our exercise program.
That's why today we're sharing a few exercise routines with you that you can do in the comfort of your own home. No more excuses! Pay attention and get ready to keep up.
To begin with, it's been proven that dancing is very good for your heart, and this is especially beneficial on a rainy day, as it will also lift your spirits and boost your energy levels, as well as burning calories.
Going for a run is great exercise and a favourite in our routine, but it's a bit complicated to do this inside the house, so we propose a simple alternative for at home, jogging on the spot.
Another exercise not to be left out of your routine is push-ups, and it so happens that these are ideal for doing at home. We know that push-ups are one of the least enjoyable exercises but doing them is very beneficial to our health. If you find doing push-ups a bit difficult, try doing them resting on your knees, you don't have to keep your legs completely straight.
The next exercise is as simple as it sounds, leg lifts. Lie flat on your back and lift your legs, that's it. Best of all, this exercise is excellent for strengthening your leg muscles. If you find it hard to keep your legs straight, you can bend them a little.
Hit those squats hard. If you really want a bottom to die for, you need to realise that squats are now your new best friend. These exercises will allow you to harden and elevate your buttocks in a relatively simple way. It is important however to do them carefully, focusing on the proper positioning of your legs, feet and knees to prevent bad posture or risk of injury.
Lastly, stairs can also turn out to be your best friend. The movement involved in going up and down steps or stairs strengthens the same muscles as those used in the squats. It also benefits your lungs and heart. In fact, climbing stairs increases cardiovascular endurance, strengthens the legs, and improves coordination and balance. The good news is that this type of exercise can be conveniently done at home. If you don't have stairs at home, a bench or low stool can help.
Don't let a rainy day rob you of the time when you should be taking care of yourself and exercising. Taking care of your body without leaving the house is possible, and by doing these exercises you will regain complete faith in the effectiveness of your home 'gym'.
https://www.samsarahealthyholidays.com/wp-content/uploads/2018/11/ejercicio-en-casa.jpg
666
1000
Edelmira Oses
https://www.samsarahealthyholidays.com/wp-content/uploads/2018/05/logotipo_samsara.svg
Edelmira Oses
2018-11-30 10:29:53
2019-04-30 15:50:08
Exercises for a rainy day