Trick or treat? Let's leave the calories found in Halloween chocolates and sweets to one side. Thanks to these spooky recipes, you will enjoy tonight in a much healthier fashion
There's no trick here. We don't need these empty calories in our bodies, which is why this Halloween we recommend switching to the healthy side. After all, Halloween gives us the perfect excuse to indulge in a 'treat' while having some fun on this scary night.
Usually, when someone uses the word "healthy" and "Halloween" in the same sentence, the first thing that comes to mind is…
The handful of raisins given by a little old lady after knocking on her door with the words "Trick or treat? (because it's the only 'sweet' thing she can find in the house)
Something really sad, like sugar-free 0% fat, with no artificial colouring, 90% darker than night black chocolate.
Eating the pumpkin filling, as it is the closest thing to Halloween you can find in your kitchen.
Forget all that, because we are opting for treat. And yes, we will be treating our body well too by choosing these delicious healthy snacks.
Do you prefer sweet or savoury?
Halloween Roasted Vegetables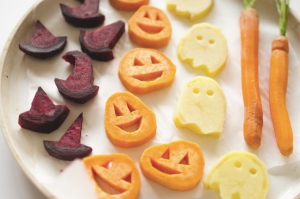 This year, you'll be able to surprise all your guests at dinner with these themed side dishes. The diners' meal will be presided over by nothing less than pumpkins, witches' hats and even ghosts! Yes, that' s right, you've read it correctly and all you'll need are the following ingredients:
Beetroot for the witches' hats.
Sweet potatoes for pumpkins.
Potatoes for ghosts
The method is very straightforward: simply peel everything, cut each ingredient into its corresponding shape, place on baking paper, add a little oil and season to taste. Bake for approximately 40 minutes (depending on the oven) at 200ºC and… ready to eat!
Rice pumpkins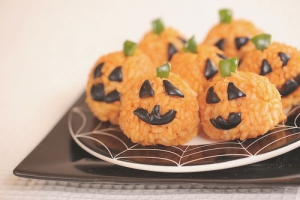 Rice pumpkins are another perfect garnish for a Halloween dinner. A very simple recipe that the youngest members of your household will love and want to do again and again. All you need is:
1 cup of rice
2 cups natural carrot juice
1 cup water
1/2 teaspoon salt
Black olives
Green pepper
They are very easy to make:
Put all the ingredients into a saucepan and cook over a low heat for 15 minutes or until all the liquid has been absorbed. Let the mixture rest at room temperature.
Make small balls using the rice mixture, either with two spoons or by using your hands (which is more fun!).
To form the mouth and eyes of the pumpkin, slice the black olives and press them into the rice balls.
For the stem, cut a triangle out of green pepper and place it on top of the rice ball.
How about we sweeten things up? We know that's what you've been waiting for!
Power bats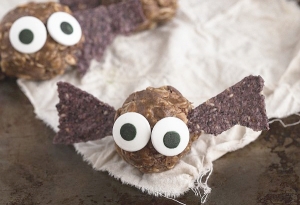 You've probably heard of energy bites. Normally energy bites, or energy balls, are taken before training for that extra burst of required energy. Best of all, they're sweet and they put an end to any sweet cravings. This Halloween, it'll be the power bats that will reign supreme at the party.
The ingredients for these bats are:
1/2 cup peanut butter (no added sugars)
2 tablespoons honey
1/2 teaspoon vanilla extract
Pinch of salt (optional)
1/2 cup oatmeal (uncooked)
1/2 cup puffed rice
2 tablespoons pure cocoa powder
Purple corn nachos (in pieces)
Eye-shaped sweets (available in bakery stores)
The steps are as follows:
In a medium-sized bowl, mix the peanut butter, honey, vanilla and salt. Microwave the mixture for 15-20 seconds and stir until well blended.
Add the oats and the puffed rice to the same bowl. Mix everything until thoroughly combined. Add the cocoa powder.
Make small balls with the mixture and stick the pieces of nachos into the sides to form the wings.
Finally, use a drop of honey to stick the eyes on.
The beauty of this recipe is that they can last up to 5 days in the fridge.
Halloween Candy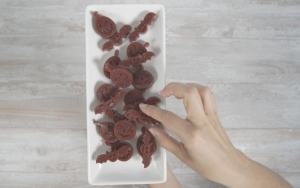 As we mentioned before, there is no trick here, and as promised we are going to give you the recipe for some amazing candies that will leave everyone speechless. They are 100% natural and we are 100% sure you will like them.
2/3 cup fresh orange juice
2/3 cup fresh raspberries
3 tablespoons honey
5 tablespoons gelatine
It may seem like a complicated recipe, but you are wrong. This is how you do it:
In a small saucepan, combine the raspberries and juice. Simmer on a low heat.
Once the raspberries have begun to dissolve, add the honey. You can use a spoon or spatula to help mash the raspberries.
Once everything has dissolved into a sauce like consistency, turn off the heat and add the gelatine slowly, approximately one tablespoon at a time and then whisk it gently using a mixer to get rid of any lumps.
Blend until smooth. Pour the mixture into some Halloween silicone moulds and place in the refrigerator until the mixture sets.
Did you like our recipes?
If you upload any of these recipes to your social networks, don't forget to tag us (@samsarahealthy), we would love to see how they turned out! Besides, we're sure to turn green with envy… which means we'll end up looking like zombies!
HAPPY HALLOWEEN TO ALL!
https://www.samsarahealthyholidays.com/wp-content/uploads/2018/10/PORTADA.jpg
752
1500
Edelmira Oses
https://www.samsarahealthyholidays.com/wp-content/uploads/2018/05/logotipo_samsara.svg
Edelmira Oses
2018-10-29 10:32:02
2019-04-30 15:36:55
Terrifyingly healthy snacks for this Halloween