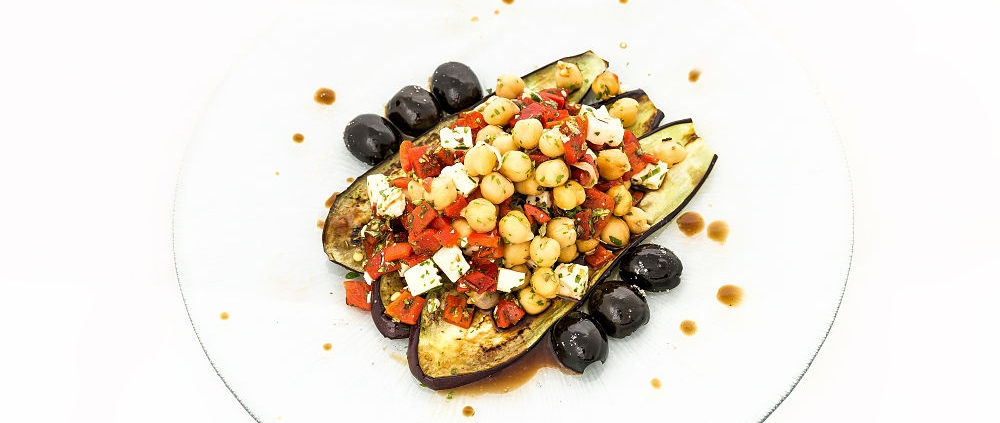 Aubergine is a food which must not be left out of your diet. In addition to being very tasty, it is extremely healthy and beneficial for your body, even more so when you are dieting. This vegetable is low in calories and has almost no fat, helps to eliminate undesirable substances from the body, keeps blood pressure under control and reduces cholesterol.
Aubergine contains vitamins A, B1, B2, C and E, is rich in minerals such as potassium, calcium, magnesium, iron and phosphorus, as well as other components such as folic acid, fibre and carbohydrates.
Therefore, knowing the many benefits that aubergine has to offer , we would like to share this simple recipe with you for aubergine with chickpeas, roasted red peppers and black olives. We hope you like it! 😉
Ingredients:
1 aubergine, cut lengthwise into 'fillets'
150 g cooked chickpeas drained and washed
2 medium-sized red peppers
25g feta cheese, diced or crumbled (If you are vegan, you can skip this ingredient)
20 pitted black olives, preferably Mallorquin olives2 tablespoons chopped fresh oregano or parsley
4 teaspoons balsamic vinegar
A handful of fresh oregano to garnish the dish
Ingredients for the vinaigrette:
1 tablespoon balsamic vinegar
1 tablespoon low-sodium tamari sauce or soy sauce
2 crushed cloves of garlic
A pinch of freshly ground black pepper
2 tablespoons olive oil
Preparing this delicious dish is very simple, just follow these steps:
Cut the red pepper into pieces of about ½ cm and roast in the oven for 10-15 minutes until soft.
To prepare the vinaigrette, mix the ingredients together well. Add the olive oil slowly and stir well to ensure that everything is completely blended.
Heat the grill or frying pan.
Cut the aubergine in half lengthwise and remove the rounded edges so that they look like fillets that are approximately 1-1 ½ cm thick. Using half of the vinaigrette, baste the fillets.
Grill the aubergine for 2 minutes on each side, or until it is tender but not soft. Remove from the heat and place 1 or 2 fillets on each plate.
Place the chickpeas, red peppers, feta cheese, black olives and oregano in a small bowl. Add salt and pepper to taste and blend well. Add the rest of the vinaigrette and stir again.
Spoon the chickpea, pepper and olive mixture over the aubergine fillets.
Drizzle with balsamic vinegar and garnish with sprigs of fresh oregano.
https://www.samsarahealthyholidays.com/wp-content/uploads/2018/06/180315_GardenMenu-20_opt-1.jpg
667
1000
Samsara_Zink
https://www.samsarahealthyholidays.com/wp-content/uploads/2018/05/logotipo_samsara.svg
Samsara_Zink
2018-06-12 11:34:24
2020-02-26 11:05:40
Recipe: Aubergine with chickpeas, roasted red peppers and black olives