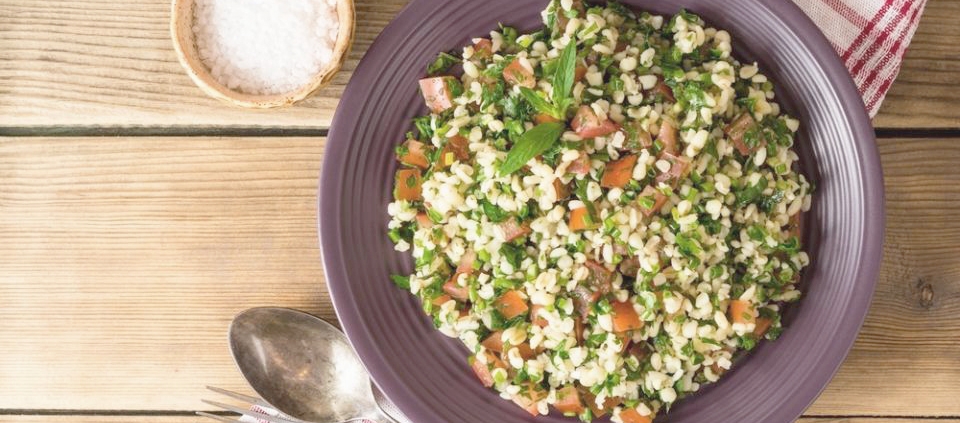 After the summer excess eating, we all want to go back to our good habits by eating healthy and doing sports.
In the post from a few weeks back we talked about bulgur, its properties and benefits. Bulgur is a food made from wheat and is very important for maintaining a balanced diet. It is an easily digestible cereal, with a high fiber content and  slow metabolization, which means that the glucose it contains is absorbed little by little, in addition to favoring weight loss. Eating healthier means learning to eat properly, therefore, in this post we will show you two simple recipes made with bulgur.
Salmon and bulgur salad
Ingredients:
3 cups of warm water
1 1/2 cup of bulgur
juice of a lemon
olive oil
fresh fill
chopped arugula
pomegranate seeds
sliced cucumber
sliced green scallion
fresh skinless salmon fillet
salt and black pepper
Elaboration
Mix the warm water and the bulgur in a big bowl. Cover it and let it sit for an hour and strain it after.
Preheat the oven at 220ºC.
Rinse the salmon and dry it using paper towels. Put it in the oven tray and add the salt and pepper.
Cook it, depending of thickness, until it can be torn apart with a fork.
Cut it into large pieces
In another bowl mix the lemon juice, oil, dill and salt. Add the arugula, cucumber, scallions and the strained bulgur.
To serve, put the bulgur mix in the bottom of the plate and the salmon on top. To finish, add pomegranate seeds on top of the fish.
Vegetarian Chili With Bulgur
2 tablespoons of oil
diced half onion
diced red pepper
2 jalapeños(optional)
4 diced garlic cloves
3 teaspoons of chili powder
2 teaspoons of ground cumin
2 teaspoons of oregano
1/2 teaspoon of cinnamon
1/4 teaspoon of cayenne pepper(optional)
1 can of crushed tomatoes
1 can of natural diced tomatoes
2 cans of black beans
sour cream, cheddar cheese and cilantro for decoration
Elaboration
Add the oil to the pan. Make sure the heat is medium-high.
Add the onion, pepper and jalapeños. Cook them until they are transparent.
Add the garlic, chili powder, ground cumin, oregano, cinnamon and cayenne. Stir everything and cook it for a minute.
It is time to add the bulgur, crushed tomatoes, diced tomatoes, salt and two cups of water.
Let it cook and when it starts to boil reduce the heat. Cover it and let it simmer at low temperature for 10 minutes.
Add the beans and continue cooking, but this time without the lid, until the bulgur is soft.
Serve it with sour cream, grated cheddar cheese, cilantro or some diced jalapeño peppers.
https://www.samsarahealthyholidays.com/wp-content/uploads/2019/10/bulgur.jpg
640
960
Edelmira Oses
https://www.samsarahealthyholidays.com/wp-content/uploads/2018/05/logotipo_samsara.svg
Edelmira Oses
2019-10-22 08:30:32
2019-10-24 10:37:43
Recipes with bulgur